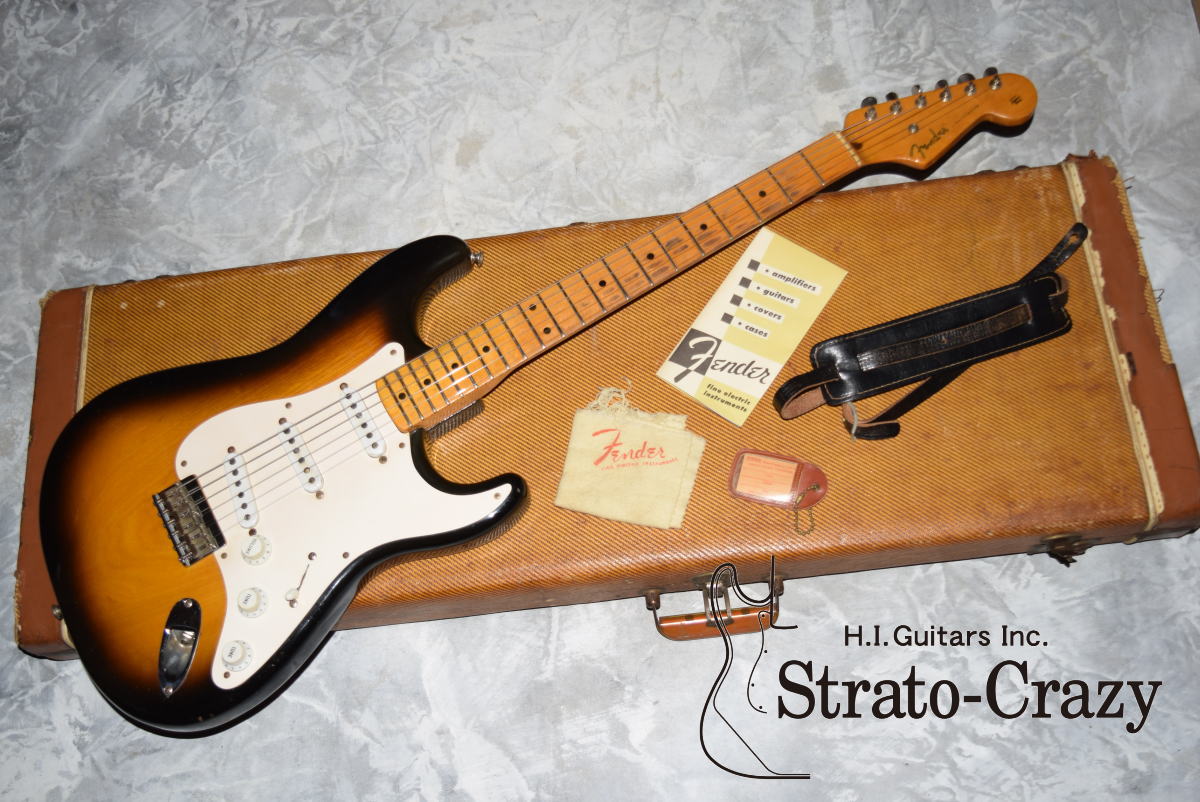 '54 Sunburst "Hardtail" Maple neck, 100% original in Near Mint condition, Perfect collector's piece!!
Sep. '54 Neck, Body and Assy. '54 Sunburst "Hardtail" in more than 9.0/10 condition. Body still keep shining. Only small paint rush at body edge and a few tipping wears on body back, but clean!!
100% original (Broken solider joint at Volume pot one time before, others are parfect, including frets and nut.)
Perfect original Bakelite plastic parts.
We found '54 "Hardtail" Strats several times before, but this gear is cleanest one we have seen!!
Three original '54 "Short G" Black bobbin pickups, amazing '54 Strat tone!!
Three solid shaft pots, Volume pot is 250KΩ, Tone pots are 100KΩ×2
Less than 7.1 lb super feather weight.
With original Cloth, Strap and Case name holder. ('54 Catalog wasre-printed)
Consignment gear.
Rare & Dream Dollection


'54 Sunburst "Hardtail" /Maple neck / VGC-3043

Specisal Price US$58,500
Perfect collector's piece, '54 Sunburst "Hardtail" Stratocaster in Near Mint condition.
*Neck Date: TG-9-54
*Body Date: 9/54
*Assy Date: Virgnia 9-26-54
*Pots Date : Vol and Tone-1 Can't read. Tone-2 304 430
*Pickups : '54 original "Short G" Black Bobbin pickups×3
*With original Center Pocket Tweed Case